TITLE:: ...
SOBRIQUET:: Zero
NAME•MEANING:: Zero lost her memory, she lost everything. She started from Zero and that is why she gave herself that name.
HOUR•GLASS:: 2 years and 4 months [or at least assumed]
SEX:: Lady
DAY•OF•BIRTH:: 6th July [or at least assumed]
BREED:: 50% Gray Wolf & 50% Eurasian Wolf
SEXUAL•ORIENTATION:: Bisexual || Interested in Males and Females
PLACE•OF•BIRTH:: …
DESIRED•OCCUPATION:: Huntress of Sif
CURRENT•OCCUPATION:: None 
NATIVE•TONGUE:: English
Zero
PHYSIQUE:: An elegant, petite figure with small paws. Zero meisures twenty seven inches shoulder height and weighs around 70 pounds. Her snout is narrow and short, her receptors scrawnier than the usual wolfs, however well rounded as it should be. Zero´s neck is well-built as well as her strong but lean limbs which allow her to run long distances. The compact muscles within her legs can carry her for a long time without tiring out. She can fit into small places but has enough muscles to defend herself during a fight.
PIGMENTION:: An ivory white pigmention is covering her entire body, no stripes of cream nor grey can be found within her fur. She is pure white.
TEXTURE:: The female´s pelt is soft to touch and longer around her belly and hind legs.
MARKINGS:: Under each eye, she has a black, stripe going down with two dots on each side of the stripe. Two dots of an ebony black are marking her throat´s fur.
OPTICS:: An intense, emerald iris shade.
Asche::
PHYSIQUE:: As well muscled as she is, Asche is not like an average female. No, she is far away from being girl-ish. Her frame is filled with muscles, her four limbs are steady, every part of her entire physique, showing the years where she trained to become the powerful female she is today. Nothing on her is lean, nothing scrawny. But do not think that Asche looks like a tomboy, because she has well settled feminine features as well, which she knows greatly to make use of to taunt Zero even more. Unlike a realistic wolf, Asche can change her size incredibly. However, mostly, she stands at thirty-seven inches, though during Zero´s nightmares, she oftenly changes her size to look more intimidating.
PIGMENTION:: Asche can change her coloration as much as she wants but mostly, this is what she always looks like:: Asche´s fur is shaded in an ebony black. Almost as black as the night itself.
TEXTURE:: Zero has never touched Asche´s fur. Both damsels are not able to touch each other. Even though Asche tries so many times, Zero has enough power to keep her away, because if Asche successfully touches Zero, she will be the new host of the body of Zero. The same is happening to Asche if Zero touches her. However, due to both females being strong enough, none of them have ever been able to touch each other.
EXTRAS:: Sometimes, only to mock and scare the ivory female even further, Asche´s fronts are burning. The flames can not cause any trouble, since Asche herself does not exist in the real world, only in Zero´s mind, but they can affect Zero very badly.
OPTICS:: A sanguine iris shade.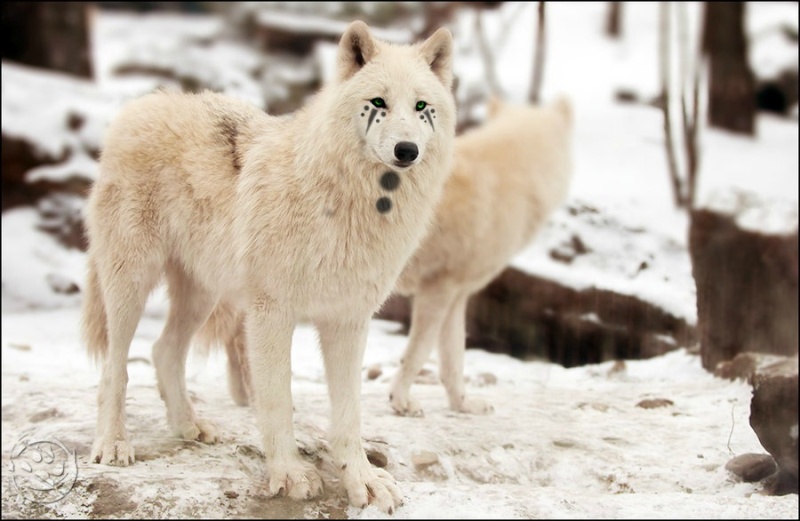 CHARACTERISTICS:: Zero is a kind-hearted female. She may come off as shy due to her not speaking much, or at least the female won´t start a conversation herself, however, Zero is the quite opposite of being shy. She is not extremely confident but she is well sure-footed and tries to come off as if she is not insecure at all. Anyways. While quiet, Zero appreciates every conversation someone starts with her, well as long as it´s about revelant things. She won´t take any nonsense and if needed she will put those back into their places who showed her nothing but a bothersome behavior. Zero is surely not someone to mess up with, as she can show an assertive and nerely arrogant side of her persona as well as the kind and warm-hearted female she actually is. Though one must know that her assertive side is only Asche speaking for her. Zero herself could never yell, growl nor snap at anyone at all, except Asche made her to by making her paranoid and even further insecure.
However, since the day she had forgotten everything and started a new life, starting from nothing, she isn´t really one of the most social canids. She will talk with someone and will appreciate every conversation, though she is afraid. Yes, she is confident but deep within her core, she is insecure of what she is doing and is in need of someone who she can trust, speak with and maybe even fall in love with. She just needs a shoulder to cry on and an attentive listener who would gladly listen to her words and the things she just has to let out.
Zero has a shattered personality, a personality disorder, what simply means that she has two different personalities. One names Zero, the one you will mostly see around, the one who is sweet, caring and lovely, though very insecure due to her amnesia. The other one is Asche. Asche is the complete opposite of Zero. Her second personality is a mischievious, cold-hearted and hostile female. Asche is often the one who is taunting Zero for her movements or cause her to get into trouble. Making Zero paranoid is one of her favorite things to do in life. However, Asche, even as her second personality, is not able to control Zero´s body. She can only speak with the silvery female and sometimes cause her to say things she didn´t want to say or do things she didn´t want to do. Asche is making Zero´s life hell.
NARATTION::
BEFORE•THE•GREAT•FIRE:: This will only be revealed when Zero can finally remember her past as well.
AFTER•THE•GREAT•FIRE:: "Alone. Darkness. Everywhere... Ash. The land was destroyed, no colors, only shades of grey covered the lands. An ivory figure revealed it´s intense, emerald pigmented irises as it woke up, blinking softly, sowly. The name of the creature... well, it doesn´t matter. It was me anyway. I still can not remember my true name, the name my mother gave me. I can´t remember her face, her figure, her breath, her words. Nothing. I just woke up there, alone. I started crying. I started shouting. I howled, I yelled, I barked. I... whined. Like a little pup, crying because it was lost. And that was what I was. Lost. And alone. Pushing myself off of the ashen terrain, I accidently inhaled the remains of the great-fire. That is what I called it. I figured that it was a fire, ever creature with at least a little bit of brain could put one and one together. The trees, no longer green but black, the ground, no longer brown but ashen grey. I was terrified as my irises, the only thing which had a color in this black-white world, roamed over the devasted land. I couldn´t remember how that place looked before I woke up. But I could tell that it was beautiful...
Not long after I tried to move, my receptors perceived some rustiling not far away from me. I felt an uncomfortable feeling in my chest as I instantly lowered myself, not daring to challenge whatever that was. Suddenly. Darkness. Nothing but darkness. I could sense something right in front of me, what gave me quite of a heart attack. Understandable. It was an ebony figure, the pelt of the assumed canid was darker than the darkness which surrounded us. I stared into it´s eyes, those red eyes. Asche. It spoke to me. I wanted to return the favor by telling the intimidating creature my name. But how was one supposed to reveal it´s name when it didn´t know what it was either. And so I just whimpered in return, what made Asche laugh in great amusement. You are not alone. I can remember that I tilted my head in confusion as well as fear. You have me.
Since that day, Asche never left my side. It wasn´t really loyality, though. She wanted me, or better, my body. I believe that she showed up because of my amnesia. That she is something what should... help me with remembering my past. Or that she is simply an evidence for my insanity. Whatever it is, I am still glad that she followed me, even though I could never tell her. She kept me company while no one else did. Where ever I went, she followed and sometimes, even though she would never admit it, she helped me out. Not for charity´s sake. You have to understand that if I hurt my body, she is in pain as well. We don´t really share the same body but kind of... we do.
I did not get encountered by any other canid since the day of the great fire. Luckily my instincts weren´t forgotten as the rest of my memories. I could provide myself some meal, sometimes, if I was lucky enough, even an already wounded elk, or calf. It was, of course, hard but I couldn´t say that it was harder to hunt alone. I never hunted in groups, or at least not after the great fire. Maybe I did, though. I can´t remember anyway... But not only my instincts helped me. It was Asche, who told me when to attack, where to attack, what doe would do perfectly and how to stay downwind. It was a miracle but that was the only time Asche acted quite... helpful and social. She never helped me out, except I was hunting or when we encountered other, living creatures such as bears. She helped me during fights against other predators, how to protect myself. I remember that she´d always tell me to finish these creatures off, but I simply couldn´t do it. Instead I left them or just chose them away. I don´t want to end anyone´s life. As long as if it´s not necessary, I wouldn´t.
It didn´t take long until I noticed that being nameless was quite... distracting. I felt like a no one by being a someone. And so I titled myself Zero. I had nothing, I started from nothing and thus I gave myself the name Zero. Asche, at first was quite amused about my ´Oh so creative choice´ but during time, she´d get used to it and even call me that way. What made me feel a little bit better. Having an identity made me feel at least a little bit stronger. You have to understand... I have to be strong. If not, chances are that Asche will take the chance to be the host of my body...
FLAWS:: Heavy Combat || Asche || Amnesia || Swimming || Unbearable Heat/Cold || Fear of change || Fear of failure || Loud noises || Incredibly afraid of fire || Her shattered personality
TALENTS:: Advanced Senses || Hunting || Adequate Strength || Outstanding Agility || Exceeding Endurance || Cunning || Cooperation
PREFERENCES:: The night sky || The sun || The moon || Company || Politeness || Peace || Silence || A well organized life || Hunting || Being useful || Kindness || Pups || Helping || Cheering others up || Making others smile || Emotions || Feelings || Spring || To have someone she can talk to || Rain
DETESTATIONS:: Storms || Disrespect || Violence || Being alone || Being useless || Being hated by others || The Hot || The Cold || Destruction || Chaos || Cocky wolves || Asche, even though she appreciates Asche´s company || Unnecessary fights || Wolfs blood || Unorganized days || Too much drama || Thunder || Hostility || Being ungrateful for life || Arguments || Bad/sad moods || Winter and Summer || Giving up
FEARS:: To die alone || To ever see fire in her life [again] || Asche taking over her body and mind || Any drastic changes in her life || Failing in life || Spiders in all shapes
DREAMS:: To be a part of a pack || To find her soul mate || To get rid off Asche || To become mother one day || To complete her life and die peacefully || To find out who she truly is
DAME:: Unknown||Location Unknown||Status Unknown
SIRE:: Unknown||Location Unknown||Status Unknown
SIBLINGS:: Unknown
ACQUAINTANCES:: None
FRIENDS:: None
CRUSH:: None
SOUL•MATE:: None
OFFSPRING:: None
FACTS•ABOUT•ASCHE:: Asche is nothing and no one for other´s. No one will ever be able to see nor hear the ebony female. She is simply an imagination of Zero. Since the ´great-fire´, Asche accompanied and taunted Zero for her entire life. This personality disorder is a result of her shattered mind and her amnesia. Asche is something her mind brought up, she is something that keeps Zero company and represents her fears.
However, other than usual personality disorders, Asche can not take control over Zero´s body, nor can Zero control or suppress Asche. Both are individuals, both unique in their own way. Zero can see Asche, much like a hallucination, but she could never actually describe her unwanted companion. The ebony female changes size, pelt coloration and eye pigmention, whenever she wants but her vocals are always the same; deep, threatening and a simple hiss. But even though Asche is never the same, she likes to represent an ebony she-wolf with sanguine pigmented irises and a combatant build.
Asche and Zero are not sharing the same body. Even though they kind of are, Asche is like a hallucination for Zero. She will walk around, talk to other´s, though they can not see her it will drive Zero crazy, and interact with the ivory female. This malicious female is excellent in making this broken and confused female insecure, drive her crazy or just mock her to make her feel depressed.
If Zero is hurt, physically, so is Asche. If the ivory female dies, so does the ebony one. Even if it doesn´t seem as if they share bodies, they´re hurt equally. That is often the reason why Asche is sometimes even supporting Zero during fights by telling her what to do. That is the reason why Zero survived so long. Without Asche she´d have been dead by now.
Last edited by Zero on Sun Dec 21, 2014 6:05 pm; edited 1 time in total



Posts

: 13


Vale Petals

: 22


Join date

: 2014-11-27


Age

: 20


Location

: .



Beautiful Bio, Zero. Since you're a PF it's not really necissary unless you wish to join as a full member but eh. Unless you do want to be a full member later....?

Either way, good biography.

Admin




Posts

: 99


Vale Petals

: 174


Join date

: 2014-11-22



Danke. 
Ye, I wanna join as a full member.
Tho not now.
Don´t have enough time rn.



Posts

: 13


Vale Petals

: 22


Join date

: 2014-11-27


Age

: 20


Location

: .



I see.

Well whenever you have the time, We're open.
Admin




Posts

: 99


Vale Petals

: 174


Join date

: 2014-11-22




---
Permissions in this forum:
You
cannot
reply to topics in this forum