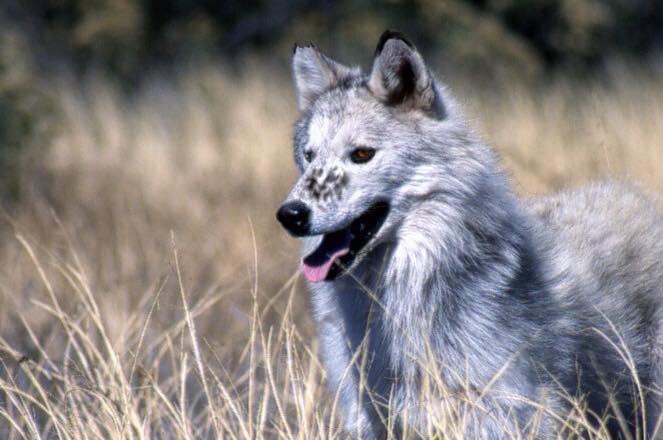 Basics
designation:
Rowan Gray
tag:
Her previous pack titled her Raven due to people's first impressions. She enjoys Raven more than her formal name.
sex:
female
maturity:
3 summers
role:
none yet
desired role:
Hiaro of Sif
Aspects
classification:
Timber Wolf
up close:
Raven is surrounded by her velvety, lengthy pelt, a general colour of light smoke, flecked with creamy (almost tawny) white, and dark black. Her muzzle, dock, and ears are tinted with black as well, and her light brunette eyes contrast the ebony surrounding her orbs. Raven may be considered petite, though to a explainable reason, although once challenged (whether in a hunt or a duel), she makes up for her size. Overall, she is considered some what average, her figure slender and burly, her back paws allowing her to powerfully spring. Raven weighs about 37 kilograms, and towers at a mere height of 67 centimeters.
marks:
Raven carries a injured sensor as a result from a struggle.
Makeup
Persona:
Her name describes how one may see the fae at first. Much like the bird, she is beady eyed, and always wary, contrasting the fact that she cares little for the actions of others (excluding ones that have bonded with her). Keep an eye out at first, for one wrong move can cause her more, eager, I should say, side to come out. Eager to clamp her canines in your throat, that is.
She must always move forward. Raven has almost never stayed in the same place for too long, never kept the same friends, nor the same rules. She was just always moving. Yet, despite all of the change she embarks, like almost any other living creature, she fears change itself.
Raven is quite talkative and enjoys being in a conversation with others. A more caring feature can be displayed through more social interactions with the wolf. As mentioned before, Raven is wary, but as soon as she becomes comfortable around you, she does have a soft side. I should warn you, she's not the most touchy-feely kind of canid.
Raven has never seemed able to follow the rules, and even when involving a pack, she has a mind of her own. If she desires a certain thing, she gets it, sometimes no matter the consequences. She doesn't consider herself a leader nor a follower, she uses her logic and determines when she needs to fight or when she needs to listen. But don't expect much.
distaste(s):
being looked down upon (useless, one might say) || losing her temper || losing a loved one || overly dominant beings || change || losing control over a situation || unnecessary deaths || lies || disrespect ||
preferences:
being in control || a good trick || dangerous situations || tracking, stalking something/one || dusk || company || loyalty, trust, etc.||
Story
Coming soon!
Links
Biological:
Cara - mother
forgotten
Maak - father
forgotten
Tara - sister
deceased
Kala - sister trusted
Friendly relations:
Partner in Crime: Kala
Crush: None
Mate: None
disclaimer: I apologize if my grammar is a bit off, or seems awkward, English is not my first language, so writing with the correct punctuation, grammar, etc. is a bit difficult for me

Last edited by Raven on Sat Dec 27, 2014 1:24 pm; edited 2 times in total



Posts

: 31


Vale Petals

: 64


Join date

: 2014-12-24


Age

: 18


Location

: everywhere and nowhere wow that was cheesy



Lovely biography.
Welcome to the pack.



Posts

: 13


Vale Petals

: 22


Join date

: 2014-11-27


Age

: 20


Location

: .






Posts

: 277


Vale Petals

: 467


Join date

: 2014-11-25


Age

: 23


Location

: Within Thane Territory





Similar topics
---
Permissions in this forum:
You
cannot
reply to topics in this forum