"It's lovely to know that the world can't interfere with the inside of your head."
Frank McCourt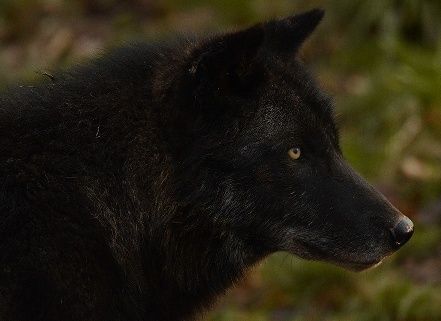 BASIC
Birth Name
- Felune
Alias
- Fell
Sex
- Female
Age
-  Four years
Species
- Unknown
Position
- Hiaro of the Sif pack
DETAILS
Pelt
- An ashy black color covers her entirely, besides her toes, which stand out with their odd white coloring. Her pelt's texture is course, short, and thick, and it almost always looks messy. She does not care much for her appearance.
Stature
-  She is made of hard muscle, but is very lean and thin. Her legs dominate much of her height, which is that of an average wolf. Her body is perfect for running and sneaking, though she would never admit to the tiniest pouch of fat hanging happily from her stomach.
Features
- Overall she would not stand out in a crowd as her features are very plain and not all that attractive. Her eyes are a simple dark amber that easily blend into her face and are very hard to read. She has dainty paws and a long tail, making her very lithe in her movements.
Markings/Scars
- White toes. She has a small, dark scar on the left side of her face directly under her eye.
Disabilities
- None.
Other
- None.
CHARACTER
Personality
- Felune could be described as observant. She rarely speaks, but not out of lack of opinions, as she is always watching and making her silent judgments. Anyone could see that the female is typically content with her surroundings, and does not prefer to be bothered as she just sits and watches. It is very difficult for Fell to become passionate about something, and she has a hard time making friends and relationships in general. When she does speak, it is usually for business matters only, or when she is being addressed by a higher ranking wolf. If there is anything that she does not lack, it is manners and respect, as she appreciates those who take charge even if she would never do so herself. She would much rather blend into the background in fear of getting in the way. She would much rather be on her own, exploring and doing the one thing she truly loves: being reckless.
Talents
- Being quiet, watching, following orders, fishing, strong nose, quick to react, good listener.
Likes
- Rain, nighttime, having time to herself, focused individuals, the water, being helpful, a bit of mischief, adventure and danger.
Weaknesses
- Easily spooked, trouble communicating, crowds, being put on the spot, making quick decisions, combat, easily put down by authority figures.
Dislikes
- Being forced to speak, being in crowded areas, stubbornness, hot weather, burning sun, answering questions.
RELATIONS
Mother
- Theresa (Alive)
Father
- Juno (Unknown)
Sister(s)
- Gwen (Alive),
Demay (Deceased)
Brother(s)
-  
Xavius (Deceased)
Love Interest
- N/A
Offspring
- N/A
MISC
Scent
- Water and honey. She smells clean despite her usually dirty appearance.
Voice
- Smooth, low, and quiet. She finds it hideous.
Habits
- Grinding her teeth, not answering questions right away.
Theme Song
-  To Be Decided



Posts

: 59


Vale Petals

: 65


Join date

: 2014-11-23


Location

: Perhaps another dimension.



Bless, Felune sounds lovely! I'm most certain her and Maverick will become acquainted with one another! Look forward to role-playing with you!



Posts

: 4


Vale Petals

: 6


Join date

: 2014-11-23



Thank you, Maverick! Se you in the role-play! c:



Posts

: 59


Vale Petals

: 65


Join date

: 2014-11-23


Location

: Perhaps another dimension.




---
Permissions in this forum:
You
cannot
reply to topics in this forum